William Ruygt Eagle Court of Honor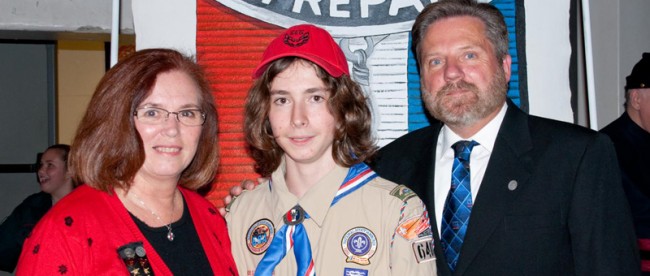 On November 7th I had my Eagle Court of Honor in the auditorium (theater) at New San Juan High School. It was well attended by over 200 people including our District Executive Ricci Dula, and presentations from both Supervisor Don Nottoli, and 2nd Lt. Don Wilt from the Sons of the Union Veterans of the Civil War. Also in attendance were the principal from my school Mr. Oddo, Vice Principal Mr. Hunt, my counselor Mrs. Mackey, and about 9 or 10 of my teachers from New San Juan High School or department heads. Mrs. Speights my 1st grade teacher was also there. My Court of Honor opened with thirty Scouts carrying in United States flags which made for an impressive backdrop for my Court of Honor when they were all up on the stage. My cousin Andrea sang ―On Eagle's Wings‖ and Kim Husted, who I was a den chief for, announced some of my many congratulatory letters including those from President Obama, the Prime Minister of Canada, former presidents Clinton, Carter and both Bushes.
Since then I have also received letters from Queen Elizabeth of Great Britain and Princess Maxima of the Netherlands. Jamie B. was the MC for my Court of Honor and he did a great job. My escorts were Kelson L. and Aaron R. who did a great job escorting me down in the wheelbarrow I gave to Gold River Discovery Center in honor of my Eagle project. By the way my project was to redo the garden beds at GRDC which took over 400 hours and three weekends to complete with 53 volunteers. As I entered the room which was darkened Neil Ishikawa had a spotlight on me as my escorts wheeled me down and I paddled in with a canoe oar. It was spectacular. Doing the Eagle pledge was Jim Buell and the Eagle challenge was done by Coach Hibbard, New San Juan's football coach, who is also an Eagle Scout.
The invocation was done by Evan Frenklak and Michael Kuykendall did the benediction. Colors were done by Casey R. who was the caller, Jac B. carrying in the Crew 808 flag, Adam B. carrying in the troop flag, and Daniel R. carrying in the American flag. Doing the investitures were Christian A., Ian C. and Matt B. Dave did a great job running my slide show presentation and of course doing the presentation of the Eagle award. My brother Peter did the nesting of the Eagles. After the ceremony everyone went over to the school's new culinary building where everyone enjoyed refreshments in the school's restaurant. Overall everyone had lots of fun and I want to thank everyone for coming to my Court of Honor.