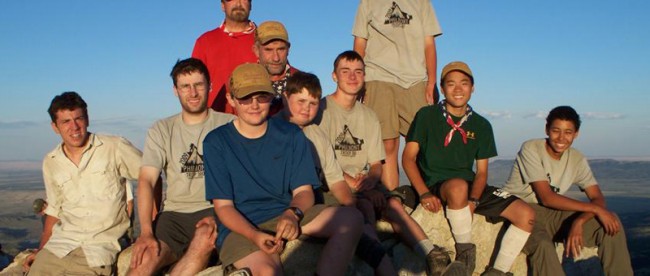 By Gerry Goodie
On July 25, we arrived at the train station at 5 am for our 6 o'clock train ride. We rode the train to LA and then switched trains to go to Raton, New Mexico. As we got off the train there were lots of scouts that had just finished their own Philmont trek.
We finally got to Philmont Scout Ranch after 3 days on a train and met our guide Justin. The next day we started on our trek. The first day we saw the world's only T-Rex track and learned the basics of Philmont. On day two we got the chance to throw an atlatl and dig for treasure at the Indian Writings. Day three we roped some cattle and drank root beer at Ponil. Day four we climbed a rock face at Dean Cow. Day five our hardest day of hiking, we raced burros at Harlan. On day six four of us got the chance to see a bear at Ute Springs. Day seven we shot and reloaded .30-06 rifles at Upper Sawmill. At Cypher's Mine on day eight we had a great time blacksmithing and venturing through the mine. Our last chance to get water was on day nine at upper Clark's Fork we had to conserve to make it over the Tooth of Time the next day. Almost done with our trek on day ten we hiked the Tooth at Sunset and were all ready to get into Base Camp. Our final day, day eleven, we saw the sunrise almost at base camp and had pizza in Cimarron later that day.
The next day we finally left Philmont for a three day train ride home. It was a trip of a lifetime.