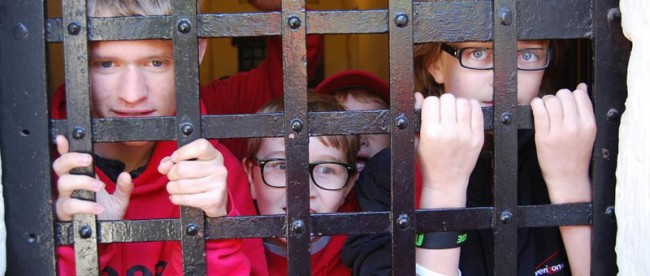 Veteran's weekend was a great time to be in Monterey. The troop (18 scouts, 10 adults) arrived Sat. morning, set up camp, and it was off to discover Monterey history. We sat in the very room where the California Constitution was signed. The docent welcomed us and shared a shortened version of Monterey history. Then it was on to Fisherman's Wharf. The first night the patrol's made spaghetti.
Sunday we helped the parks dept. put up 100 flags for Veteran's Day and folded another 200. We were honored to do a flag ceremony for the American Legion. Then it was off to the Monterey Bay Aquarium, they have been busy with a lot of new changes, special seahorse, jellyfish, penguins and hands-on areas. No Otters, they are waiting a new larger area – so we'll have to go back!
On Monday, the scouts went to Pinnacles National Monument, this is about a 7 mile hike, so they didn't get back home till after 8 pm. This is one of the best campouts the troop goes on, with many different activities, so next time plan on going with us.