Matthew Brown Eagle Court of Honor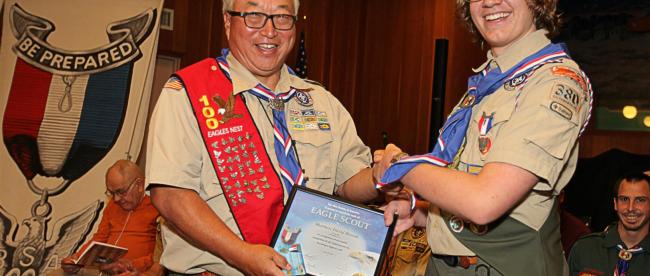 My Eagle Court of Honor took place on November 3, with my good friend Daniel Richardson serving as Master of Ceremonies. I greatly enjoyed the ceremony (as those who were present could probably tell, since I couldn't stop grinning the whole time). I'd like to thank everybody for their attendance, as the turnout was great.
My granddad and two of my cousins (one of whom is also an Eagle) flew out from West Virginia for the event. My granddad, who was a Scout in the 1930's and 1940's, was granted an honorary place in the Nest of the Eagles, as circumstances during WWII prevented him from having his Eagle Board of Review at that time.
In addition, Representative Ami Bera and State Assemblyman Ken Cooley both came and spoke. I'd like to thank them as well as all of those who helped out in the ceremony.