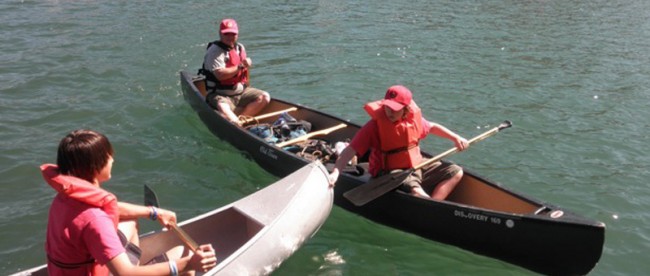 by Neil Ishikawa
Wow, what an adventure! We promised an exciting camp out and boy did we get one. First a few poor souls took the canoes on a seven mile trek across Englebright Lake. Unfortunately they ran into some crazy wake boarders, who proceeded to harass and taunt our group. The poor canoes and gear never made it across the lake, and are resting somewhere on the bottom of the lake. On the bright side the Scouts all earned their mile swim badge.
The hikers on the other hand where attacked by nature and its beasts. A pair of eagles flew in and took our two smallest Scouts Ian and Christopher. Oh, they are OK, but we were not allow to rescue them since Eagles are endangered and the Rangers said it looked like the Eagles have taken them as their own and are feeding them. Some naturalist installed a webcam to watch the progress, feel free to take a look here. Again on the bright side we all will be getting the wilderness conservation merit badge.
Speaking of good news, we also found out that the Scouts who actually survived the trip (hey 11 out 20 is still a winning season) will not have to take any more rabies injections. They caught the group of raccoons that attacked us and the test came back clear. Although some of them did test positive for plague, but only time will tell with that one.
Please note: At the time of publishing of The Eagle, Troop 380 had not yet attended the Englebright Lake Campout, it must have been a dream.
By all accounts the campers who went to Engelbright Lake had a great time as evidenced in the many happy smiling faces in the photos. It appears that the only minor incident was when Phil's canoe almost hit Nick and Dave's canoe. Happily, my bad dream about the campout did not come true.