Darien J. Eagle Scout Court of Honor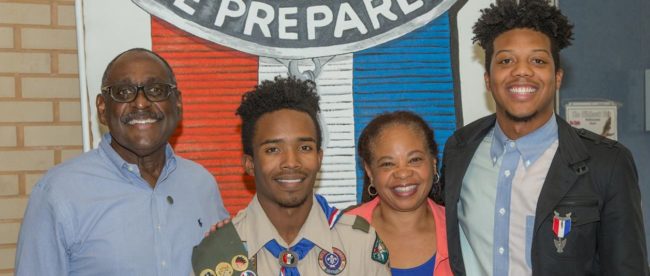 My journey as a Boy Scout culminated in my Eagle Court of Honor on October 22, 2016. My ceremony was held at 2:00 pm at Arnold Adreani Elementary school in Sacramento California. I had my family, scouting family and very close friends come to celebrate this amazing accomplishment with me. I was overjoyed to see so many people I had not seen in a while in the audience when I stood up at the podium and spoke. I am so happy and fortunate to have accomplished this goal. This would not have been possible without the support of Troop 380. Charlie Potter, a fellow Eagle Scout, served as my Master of Ceremony. I personally would like to thank the Troop Leadership, my fellow scouts and the dignitaries who took the time to come celebrate with me. Thanks also for all of the beautiful decorations and objects that I was able to display at my Court of Honor.
In closing, I'd like to encourage all of the families that are in the troop to keep on going and to keep scouting alive in their hearts. It may not be considered the coolest thing in the world to do but I can guarantee with skills like these you'll be able to touch so many others with the skills you gain through scouting. God bless you all and thank you for this amazing journey.