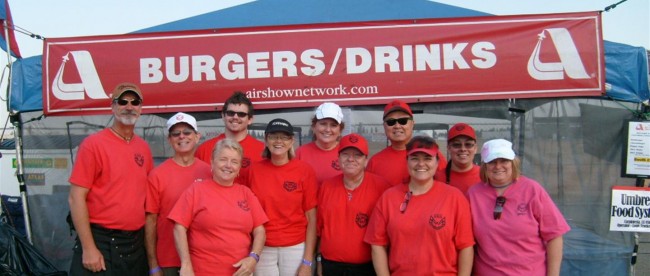 By Sheri Rush
Once again the Sacramento area played host to an excellent air show at Mather Field in Rancho Cordova. On September 10th and 11th, airplanes ranging in age from the barnstorming days to World War II to modern day jet aircraft filled the sky over the air field and thrilled aviation fans of all ages.
Troop 380 was there in force to raise money for Scout accounts and the troop's Scout programs. Troop 380 volunteers manned a 12-person hamburger and soda booth, while Crew 380 worked a 6-person ice cream and soda booth. Not wanting to be left out, parents from Pack 380 were also there, working a 7-person booth selling hats and T-shirts. The weather was warm and the lines were long as more than 150,000 people came out to enjoy the air show over the two days. All of the booths enjoyed successful sales as a result.
Highlights of the weekend included a "Tora! Tora! Tora!" Pearl Harbor Reenactment show, the flight of a restored P-38 Lighting Bolt from WW II recovered from over 263 feet of ice, the Heritage Flight of WW II and modern day fighters, and The Patriots Flight Team from Northern California.
The air show closed Sunday with a memorial to the victims of 9/11. With help from local florists, a Coast Guard C-130 Hercules flew low over the runway releasing a mile of donated rose petals that drifted softly down to the crowd in an awe-inspiring and breathtaking moment that left the crowd silent.
Following behind the Coast Guard plane were six WW II fighters flying a Missing Man formation as a special tribute to the first responders that lost their lives that tragic day. As the planes thundered over the crowd, a P-51 Mustang pulled sharply up and out of the formation to be lost from view in the sun. It was fitting that this last event was accompanied by the strains of "Taps" and "Amazing Grace" as the planes flew out of sight.
Thanks to Michael Kuykendall, Richard Howard, Jacqueline LeMaster, Wei Hsieh, Floyd Brown, Maryann Brown, Moorea Richardson, Michelle Tyler, Stella Rebello, Kay Patterson, Dave and Chris Ishikawa, Tammy and Neil Ishikawa, and Mac Weir for all their help. And a special thanks to Tonia and Mac Cameron for organizing this fundraiser.