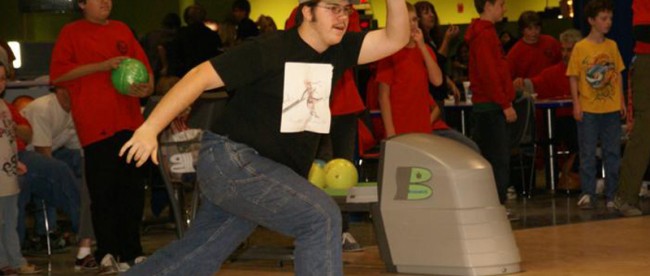 Almost 70 scouts, parents, friends, and siblings met at the new Strikes Bowling Center in Elk Grove on Monday, December 29, 2008. 50 of the participants bowled, shared pizza and soda, and received game tokens for the huge new arcade. Everyone enjoyed the colorful facility. The new complex will soon sport an indoor synthetic ice skating rink, work out facility, indoor soccer arena, indoor wave pool (for surfing), ski diving wind tubes, and more. Troop 380 has some good bowlers and some that need some work, but it was good time for all. Here are the results:
High Games Scout
Gerry Goodie 127
Andy Schiele 100
Joshua Kamine 100
High Games Adult
Bob Mellerski 201
Roberta Pennington 163
Elizabeth Trimm 152
High Game Sibling
Kirsten Carlson 76
Best Effort Adult Karen Williamson
Best Effort Scout Matthew Brown
Thank you to Gerry Goodie and Dave Ishikawa for making arrangements for this excellent holiday activity.