Bothe-Napa Valley & Mt St Helena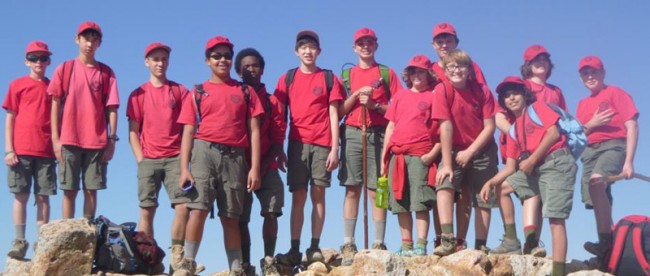 On Friday, October 11, 2013, twelve scouts and six adults drove up to Calistoga to Bothe-Napa Valley State Park for the weekend. After splitting the group into two patrols of six scouts each, we set up camp and settled in for the evening of rest and relaxation.
Saturday morning started bright and early with the patrols preparing breakfast for themselves and the adults. We feasted on bacon and eggs, hash browns, and pancakes – with and without chocolate chips! Joseph and Darien Jacobs joined us and once we'd taken the time to digest, clean up, and prepare our lunches, we were off to hike up Mt. St. Helena. The hike started out as a nice wooded trail that after about a mile led us to the site where author Robert Louis Stevenson's cabin once stood. Following a water break and a few minutes to read the inscription on the marble historical marker we continued along the trail for a few hundred yards to where it met up with the fire road that would take us to the summit (North Peak) of Mt. St. Helena. Over the next couple of hours, with numerous breaks for water and photo opportunities – including a chance to watch several climbers scale Bubble Rock-we made it to the top, ate lunch, and enjoyed the view. Our descent was at a very relaxed pace. It was so leisurely, in fact, that Dave called at 5:00 PM to ask where we were!
After arriving back at camp the scouts again provided us with sustenance in the form of pizza and chili. As a special treat, Ray and Leslie Meek cooked up a Dutch oven full of 'Ghetto Gumbo' and Dave made cobbler for dessert. The rest of the evening was spent relaxing around the campfire.
On Sunday morning we had a quick breakfast of oatmeal, cereal, and assorted Danish pastries before we broke down the campsites and packed up the trailer. As the time for our service project approached, we then grabbed our work gloves and Frank Shaw led on a marched down to the park's Visitor Center where we met up with Ranger Sandy Jones. Ranger Jones led us to the firewood area for the park explained what the park staff needed us to do. For the next two hours we all pitched in and consolidated the cut firewood and bark sections on pallets, moved the larger logs to the cutting area, and raked up debris. The area was in fine shape when we were finished.
We had lunch in the park picnic area and, thanks to Dave's scouting expedition on Saturday while we were on the hike, we made a stop at the Bale Grist Mill on the way home. The tour of the mill was very informative and quite entertaining.