Angel Echevarria and Traves Hopkins Eagle Court of Honor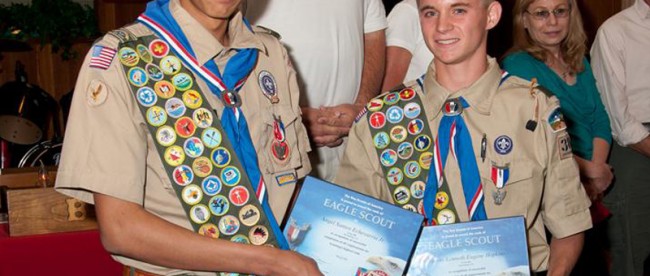 On June 4th, the Echevarria and Hopkins families, and the Troop gathered at Emanuel Baptist Church to celebrate the great accomplishments of Troop 380's newest Eagle scouts, Travers Hopkins, #126, and Angel Echevarria, #127. It was a fantastic evening. We had numerous guest speakers speak on behalf of the Eagles. Track and cross country coach, Charles Green, gave an introductory speech for the Eagles. Travers's family read off many letters and presented him with a document by a Missouri Senator. We also had Supervisor Don Nottoli come and congratulate us on our accomplishment. We all enjoyed a slideshow, one from each of our families. It was a very special night for both of us, as we each were able to share a very special moment with our families and each other.
We are both very thankful for the help from our families and from the Troop. We will both carry what we have learned in scouting on to college. Thank you all who attended our Eagle Court and supported us throughout the years. We are very thankful for your support.