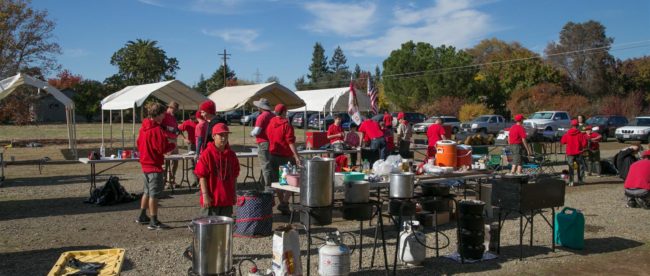 Advancement Day
 was Saturday, November 18th.  
We met at the Scoutmaster's house beginning at 8:00 AM (7:00 AM for those needing cooking for advancement).
  Our goal was to work on advancement and re-organize the sheds, evaluate equipment and clean up.  This was a project for ALL Scouts in Troop  and Crew 380, not just those working on advancement.
Advancement
:  We offered the following advancement opportunities:
Cooking – TF, 2nd, 1st
Tools – TF, 2nd, 1st (knots, knife & axe, stoves, fire, lashings)
Navigation – 2nd, 1st (map, compass)
Fitness – TF, 2nd, 1st
Citizenship – TF
Leadership – TF & 1st Class
SM Conferences / Boards of Review
The turnout was great. We were able to have many Scouts complete advancement requirements and at the same time do a thorough cleaning of the storage sheds and evaluation of troop equipment.